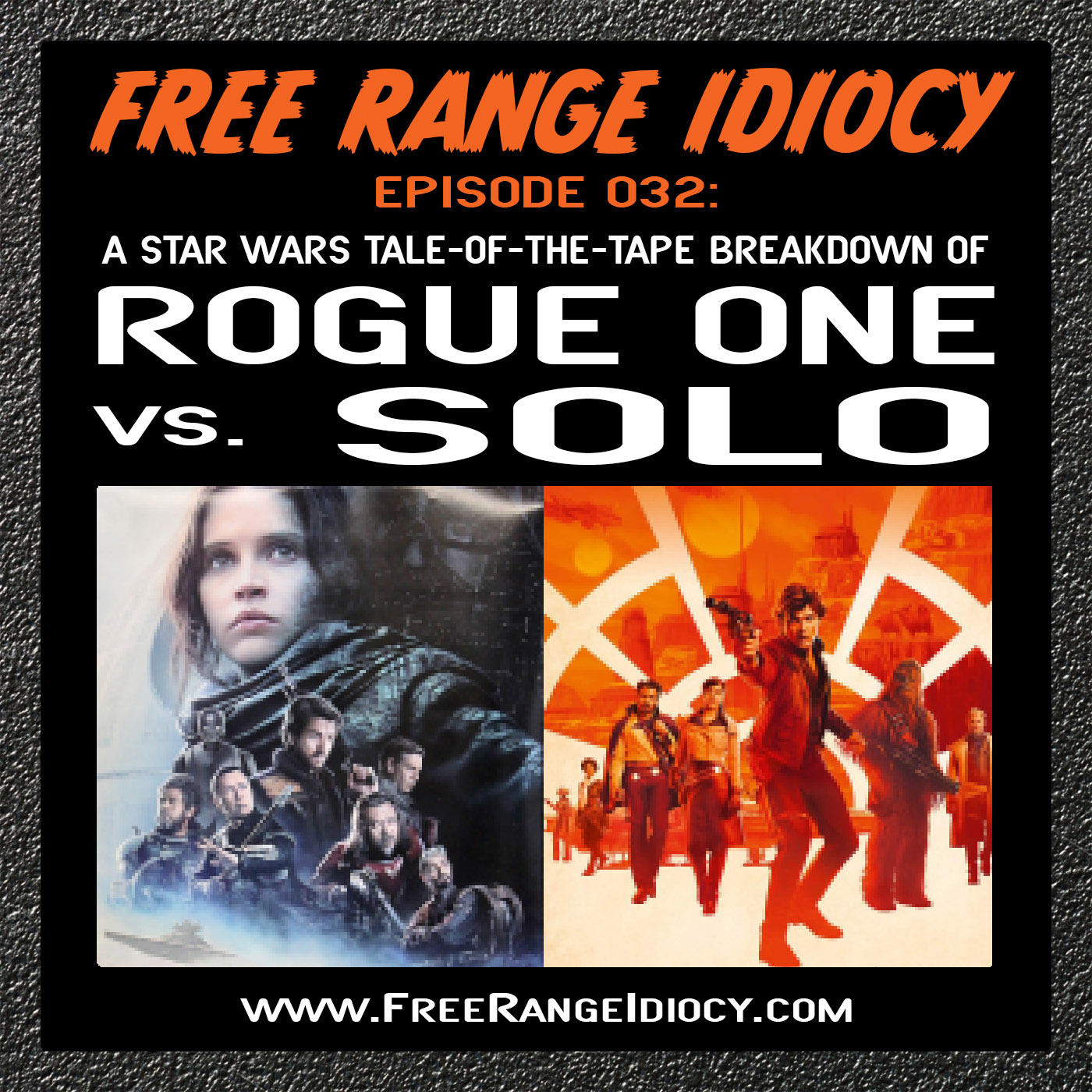 In this episode, we break out our new favorite gimmick and go all tale-of-the-tape as we break down the two Star Wars Story movies: Rogue One and Solo using categories like overall story, main characters, villains, droids, and more. Who will win and who will lose?! Okay, we're pretty sure how this is going to turn out, but there's lots of jokes and rambling to keep you entertained along the way, so dive in with us!
LINKS OF INTEREST:
- Our suggestions for the "national anthem" of Free Range Idiocy... Todd was partial to Funkadelic's "One Nation Under A Groove" while Tim preferred "Spirit of Radio" by Rush
- Here's a little more information about The Bolsheviks in the 1980's WWF
- Here's more info about Paul Campbell (aka Bill from BSG). And it wasn't a Hallmark Christmas movie, it was just a plain ol' Hallmark movie that starred Paul Campbell with fellow BSG alumnus Tricia Helfer called Sun, Sand, & Romance
- And yes, you can still find the Star Wars set for Luke's home in Tunisia
- Here's some more information on screenwriting legend Lawrence Kasdan
- Here's the article from The Verge that Tim was talking about
- What time is it?! It's Vader time! Check out Vader's return to the WWE back in 2012
- Not only was Dryden Voss originally a different actor (Michael Kenneth Williams), but the character was also supposed to look very different as well
...AND ANOTHER THING:
TIM highly recommends checking out the new video from the official Rush YouTube channel for "Spirit Of Radio" with lots of Easter eggs about the band
TODD would suggest getting your hands on a copy of The Adventures of Baron Munchausen if you can and also read up some more on actor Oliver Reed
FOLLOW US ON THE SOCIAL MEDIAS:
Did you love what you listened to? Fantastic - we love people with questionable taste that enjoy a couple chuckleheads cracking each other up. Follow us on Facebook, Twitter, Instagram, and now YouTube for more of the internet funny.
Be sure to subscribe to our podcast on Podbean, iTunes, or Spotify!