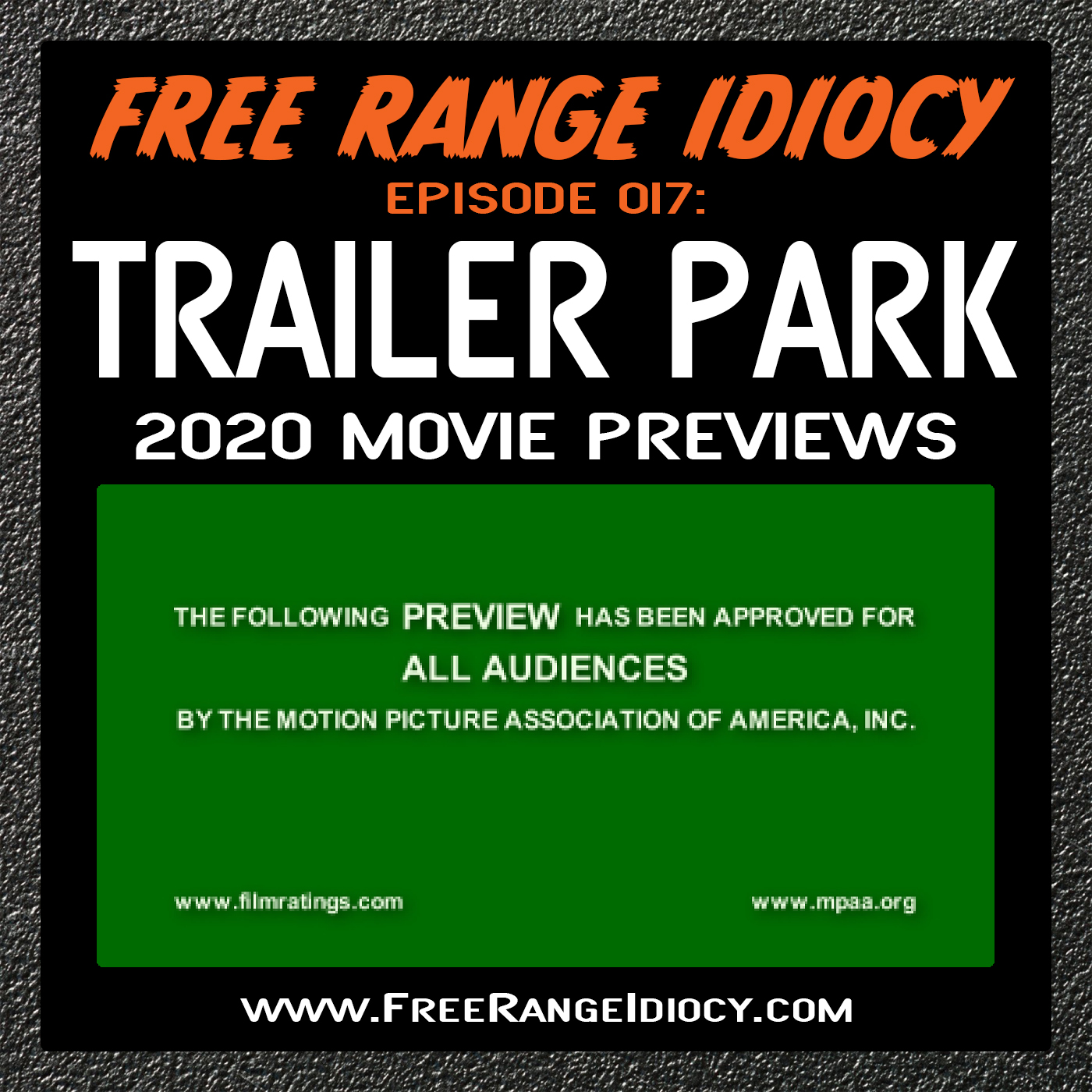 We're rollin' up into the Free Range Idiocy Trailer Park to preview all the movies we want to see that are coming out in 2020 (and the ones we don't want to see) based solely on the online trailers. Join us as we discuss CGI dogs, the wonders of youth, how DC can mangle another property, and whether the world really needed another movie about cars!
LINKS OF INTEREST:
- Here's the list of 2020 movies and trailers that we used for research.
- Tim was correct, it does appear that Morbius will be associated with the MCU in some way.
- For those of you who aren't familiar with Stranger Things (like Todd), here's a link to the awesomely named Finn Wolfhard's IMDB page.
- Here's that article Todd was reading about the term "uncanny valley".
- Here's a link to Keanu Reeves on The Late Show with Stephen Colbert.
- Here's an article talking about Alex Winter's work as a producer, the internet, and Bitcoin.
- For those of you that didn't experience the about mindjob that was MTV's Liquid Television in real time, here's the first clip of "The Head".
- Yeah, Wonder Woman is a badass (aka the No Mans Land scene).
- Chuck Yeager's Wikipedia page is pretty interesting reading, but the book is better.
...AND ANOTHER THING:
Tim was in a literary mood for this episode and recommends you check out the Mobituaries podcast and book by Mo Rocca wherein he gives remarkable people the send-offs they really deserve. Also, check out the wiki page for John Quincy Adams since we got on that tangent as well. 
Todd had a chance to catch the gypsy flamenco swing trio Ameranouche awhile back and would recommend downloading everything possible by them and also finding them out live.
FOLLOW US ON THE SOCIAL MEDIAS:
Did you love what you listened to? Fantastic - we love people with questionable taste that enjoy a couple chuckleheads cracking each other up. Follow us on Facebook, Twitter, and Instagram for more of the internet funny.
Also, be sure to follow Scruffy Looking Podcasters on Twitter and here on Podbean.